2018 is HERE!
Happy March 2018!!
Club calendars should be available through our secretary Renee Watters at our February meeting. Russ Larson and his crew are producing 30 of them for the initial run. They are $12 a piece and the 2017 calendars really came out well!
Renee Watters is once again active as our club secretary. Welcome back Renee!!
The first run of the year was January 9th and was a smashing success! We went to Puyallup HS auto shop class and the kids really enjoyed it. The turn out from the club was amazing and I dare say we had a great time sharing our hobby with the class. Need to do it again!
As most of you know by now we lost Bill Jarvis near the end of last month (December). Our condolences go out to Dee, his wife, and the remainder of his family and friends. That is the worst part of a club such as ours. Many of our members are "advanced" in age and I hope and pray that this club in some small way helps promote the healing and keeps the rest of us young. Don't be a stranger Dee. We welcome you to all of our functions with open arms and hearts.
Touring season is just around the corner so we need to take a look at our cars with a critical eye. Curt Stanhope can attest to the value of having ALL cotter pins installed. Dave Dorning can tell you how well bailing wire will hold on a floppy fender and Bill Maxwell can tell you that loose spark plugs can and do fall out! Fortunately we in the Carbon Canyon Model T club have enough collective knowledge to manhandle all of these issues. It might be time to get together once more to look at each other's T to avoid "tunnel vision" and make sure our brethren are safe.
Anyone want to host a T inspection day?
That's all for now.
Remember to bring your Model T so I can take your picture of it and you so I can add you to our members page.

CARBON CANYON MODEL T FORD CLUB MEMBERSHIP ROSTER
Joker Poker is over $800!
No winner again!
Don't forget to order your jackets!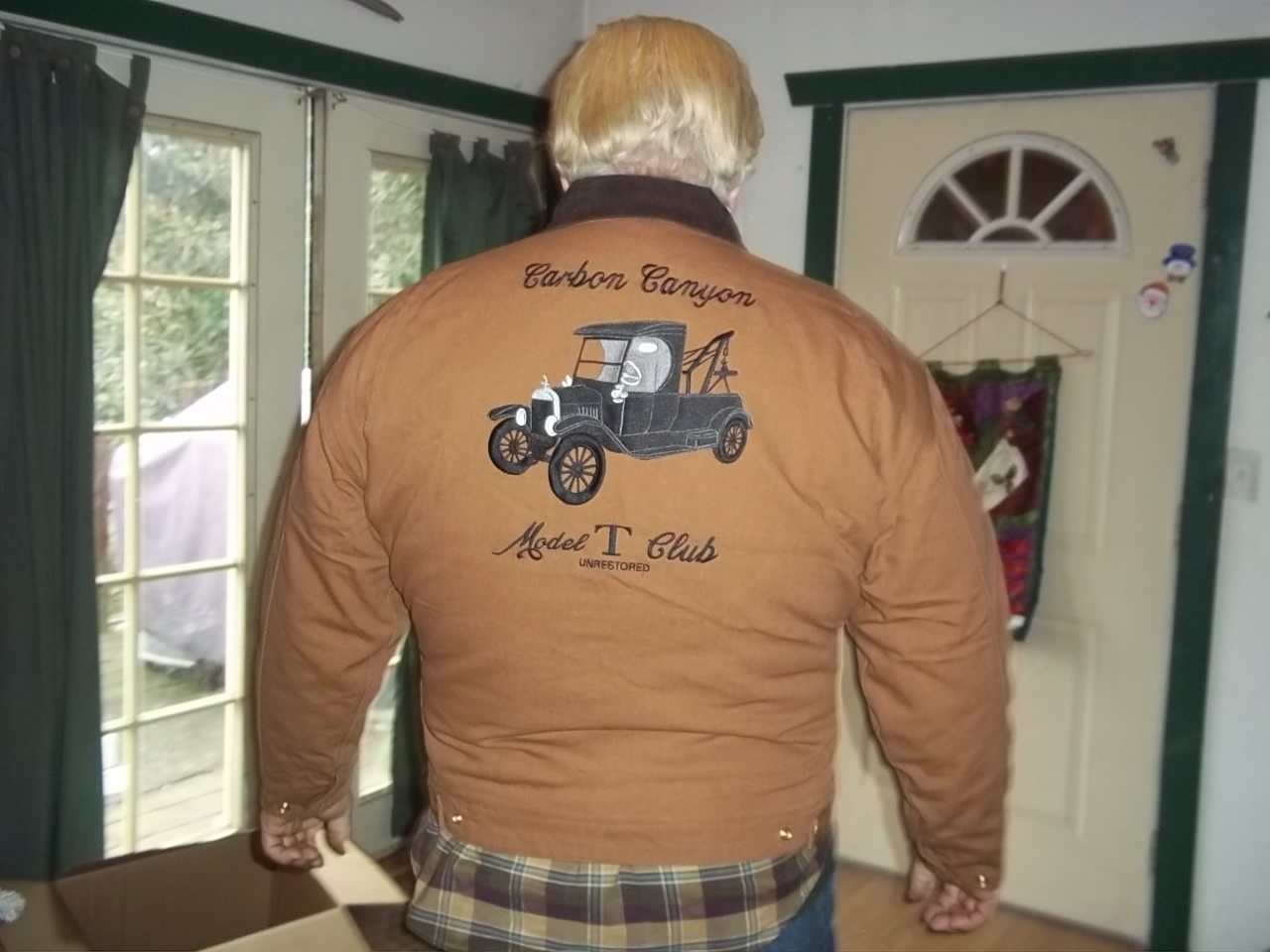 Shawn Reiman at Shawn has the prices and contact information for the embroidery and has graciously volunteered to head this effort for us. Thanks Shawn!