Summer 2018 is HERE!
"RUN FLASH"!!!!
Ashford Steak Run this Saturday
August 18!!

The September club meeting will be in Ocean Shores at Larry and Rose Fairchild's place.
195 Bass Avenue
Ocean Shores Washington
The September meeting falls on Labor Day weekend and we will be conducting a "short meeting" at Larry and Rose Fairchild's residence in Ocean Shores. Bring your T's and plan to stay for the weekend! Larry and Rose insist! If you didn't make this trip the last time we did this you missed one heck of a great weekend!
Club calendars are still available through our secretary Renee Watters at our February meeting. Russ Larson and his crew did a beautiful job with them. They are $12 a piece and the 2017 calendars really came out well!
CARBON CANYON MODEL T CLUB - EVENT LIST FOR 2018!

EVENT FLYER WILL BE EMAILED AS THESE DATES GET CLOSER
JUNE 9 - YAKIMA SWAP MEET (Chinook Pass is schedule to open June 11th)
JUNE 16 - AROUND THE MOUNTAIN RUN (Hosted by Mike Harris)
JUNE 23 - BUCKLEY LOG SHOW/PARADE (parking is avail across from the Museum)
JULY 15 - RICE MUSEUM TOUR
JULY 21 - WILKESON HANDCAR RACES/PARADE
JULY 22 - GOLD CREEK RUN OVER HWY 410 (Hosted by Jerry Ostbye)
AUGUST 4 - PICNIC at MUD MOUNTAIN DAM (BBQ/Pot-Luck/Car Games)
AUGUST 18 - ASHFORD STEAK RUN
AUGUST 25 - GOLDEN ERA CAR CLUB PICNIC @ ORTING SOLDIERS HOME
SEPTEMBER 1/2/3 - OCEAN SHORES RUN/CAMP-OUT @ Larry Fairchild's Home
SEPTEMBER 13/14/15 - CAN-AM TOUR (Hosted by Steve/Diane Tomaso)
SEPTEMBER 22 - TOUR THE PLATEAU ASSISTED LIVING HOMES (BBQ at last stop)
OCTOBER 6 - RED HAT DAYS IN ORTING
OCTOBER ?? - CHILI COOK OFF (Hosted by John/Renea Aldrich)
OCTOBER 13/14 - MONROE SWAP MEET @ EVERGREENS STATE FAIRGROUNDS
NOVEMBER 3/4 - BREMERTON SWAP MEET @ KITSAP COUNTY FAIRGROUNDS
NOVEMBER 14 - BUCKLEY SOUP SUPPER (need a Chairperson for this)
That's all for now.
Remember to bring your Model T so I can take your picture of it and you so I can add you to our members page.

CARBON CANYON MODEL T FORD CLUB MEMBERSHIP ROSTER
Joker Poker is over $800!
No winner again!
Don't forget to order your jackets!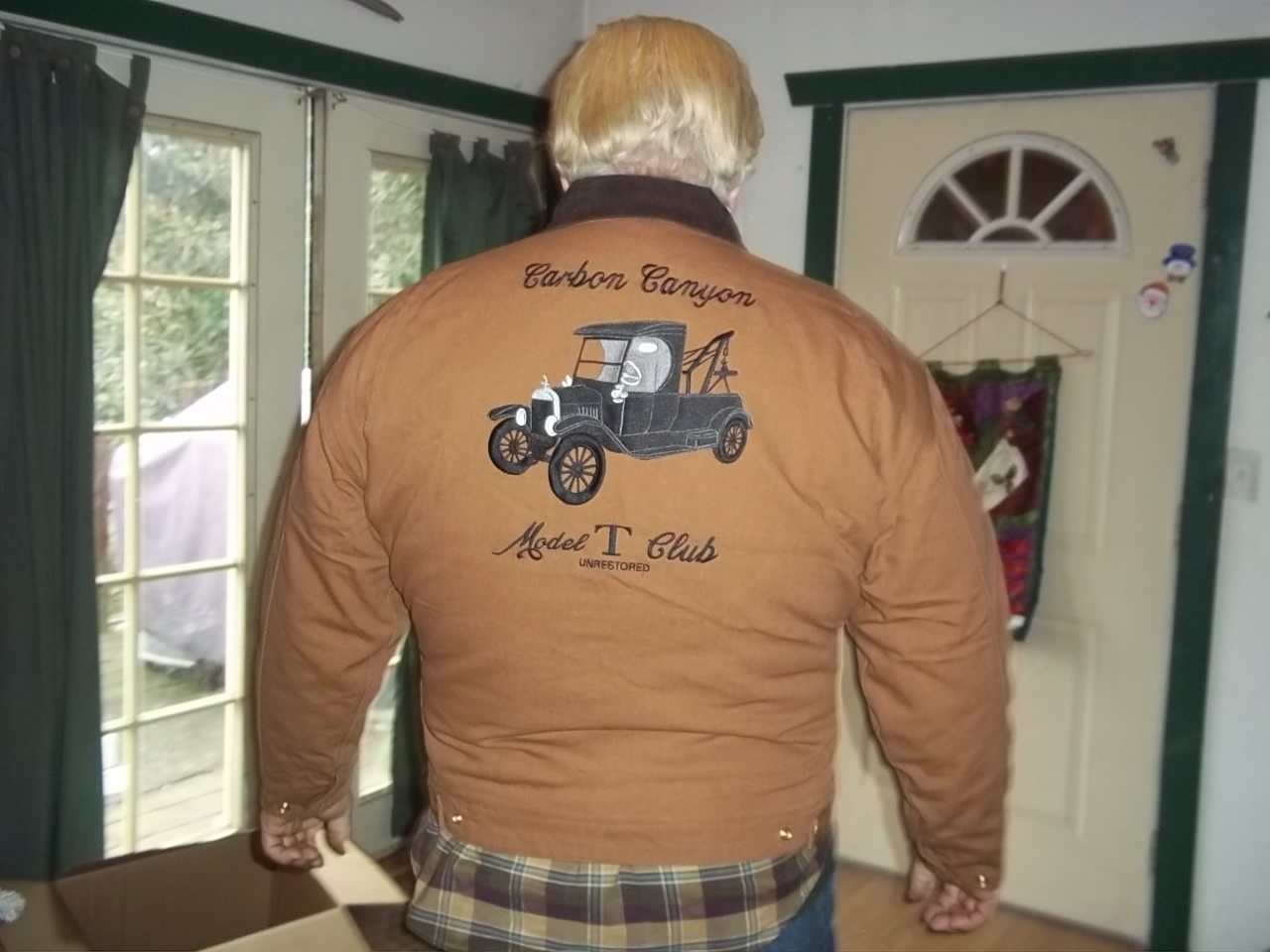 Shawn Reiman at Shawn has the prices and contact information for the embroidery and has graciously volunteered to head this effort for us. Thanks Shawn!